April 7-9, 2017
Booth C1
Dallas, TX, USA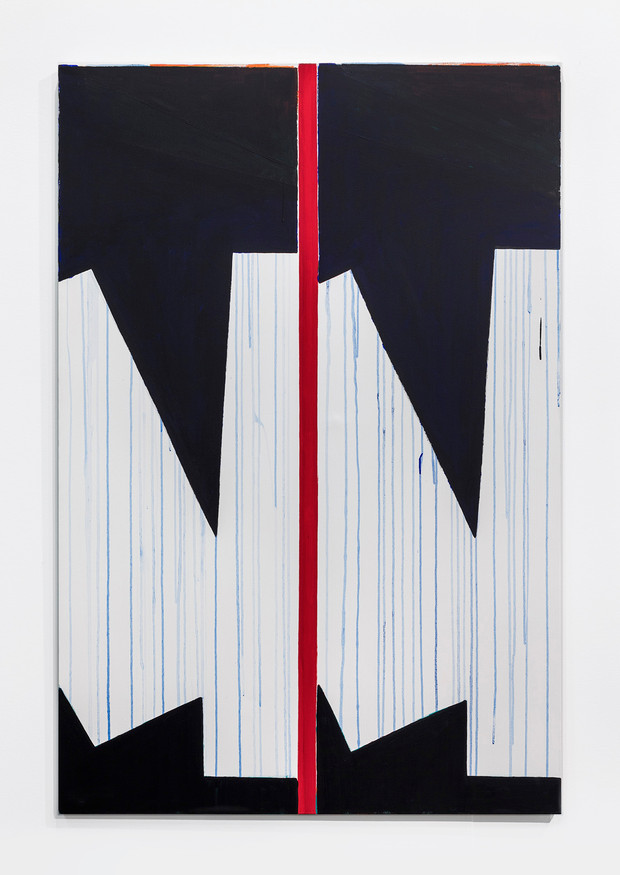 Bernard Piffaretti, Untitled, 2016, Acrylic on canvas, 57 1/2 x 38 1/4 in. / 146 x 97 cm
galerie frank elbaz and Cherry and Martin are proud to co-present a solo booth of paintings by Bernard Piffaretti at the Dallas Art Fair.
Since the early 80s, Piffaretti has begun his paintings with a deliberate first mark - a single painted line that divides the two vertical halves of each work. In Piffaretti's work, duplication is a question, and in some sense it is a negation. But it is not a negation fraught with heroic pathos. And it is not a copy. Piffaretti writes that, "a copy is made in relation to a final state." Duplication is a postponement - a break in the action that allows the viewer to see both sides of the canvas. An uncanny pattern emerges in Bernard Piffaretti's paintings as Arielle Blair has written, "Piffaretti's duplicated paintings are neither exact copies of one another, nor are they independent images." They "make us do a double take, defying the stagnancy of certain abstract painting."
Bernard Piffaretti's work is currently the subject of a solo exhibition at FRAC Franche-Comté (Besançon, France). The Musée d'Art Moderne (Paris) recently acquired a grouping of three of his paintings, including an early work from 1982, for its permanent collection. Piffaretti's work was recently featured in a two-person exhibition with Martin Barré at Musée des Beaux Arts de Nantes (Nantes, France). A new monograph on Piffaretti's work, with texts by Barry Schwabsky, Marie Muracciole and Jens Asthoff, was published at the end of 2015 by the Museum of Modern and Contemporary Art (MAMCO) in Geneva. Recent group exhibitions include, I'll Be Your Mirror, Herald St., (London, UK); and Le Tableau: French Abstraction and its Affinities, Cheim & Read, (New York, New York). Piffaretti's work has been the subject of solo museum exhibitions at the Frac Haute-Normandie (2010, Rouen, France); Musée d' Art Moderne (2009, Saint-Etienne, France); Musée Matisse (2008. Le Cateau- Cambrésis, France); Museum of Modern and Contemporary Art/MAMCO (2007, Geneva, Switzerland); Beaumont Public Gallery (2006, Luxembourg, Germany); Sara Hilden Art Museum (2001, Tampere, Switzerland); Cartier Foundation for Contemporary Art (2000, Paris, France); and Villa Arson (1991, Nice, France). Piffaretti has been featured in museum group exhibitions at the Centre Georges Pompidou (Paris, France); Hong Kong Museum; CAPC Museum of Contemporary Art (Bordeaux, France); Joan Miro Foundation (Barcelona, Spain); National Gallery of the Grand Palais (Paris, France); and Switzerland Museum of Fine Arts (Bern, Switzerland). He lives and works in Paris.